"Essential" Proves a Contentious Point during COVID-19 Pandemic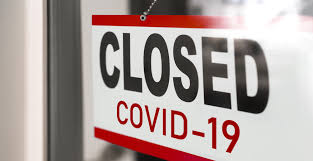 If a golf course is considered essential, how fair is it to criticize a family for having a funeral for a loved one? Connecticut is currently struggling to determine the difference between essential businesses and non-essential businesses during the coronavirus pandemic. 
To better understand how our community feels about essential versus nonessential businesses, we asked Lizzi Floyd, a senior at Fitch High School, to share her family's experience. As we all know a bit too well, COVID-19 has affected every American's day-to-day routine, income, relationships, etc. For Lizzi, the pandemic hit especially hard in the financial aspect, as her father's karate dojo was forcibly shut down in March when quarantine began. As Lizzi explains, "…our dojo is essential for living, but that didn't stop it from being forced to close. I was confused on why certain places were allowed to be open that didn't seem very 'essential' (small coffee shops, dog salons, etc.) and we couldn't." 
Although many Americans are eager to reopen businesses, essential or not, Europe is a prime example of why this may not be a reasonable and responsible decision. After beginning reopening in June, France's cases spiked again in August. "French Prime Minister Jean Castex spoke Thursday of a 'sudden and spectacular acceleration' of the pandemic. French officials on Thursday reported that new daily cases rose above 30,000 for the first time." (washingtonpost.com) The United States is averaging about 100,000 new cases each day, and the number is still steadily rising. If a spike for France is 30,000, a "spike" for the United States would be an unmanageable and incredibly dangerous number of cases. 
Discussion: There is no fine line between essential and nonessential. And as most know, when people are left to their own devices, there are many disagreements. My question for you is, do you disagree with Connecticut's designations of what constitutes an "essential" business?