One of Mystic's most popular shop's recently celebrated 40 years of business.
On Sept. 30th, Mystic Disc celebrated its 40th anniversary. Dan Curland opened the record shop on July 1, 1983 on the corner of Peacock Alley, and it has become one of the most iconic stores in Mystic since. The event was supposed to be held in the Mystic River Park but due to rain it had to be moved to the German Club, a small event space across from the Mystic Seaport. This did not stop people from gathering and celebrating the business Curland has built.
Patrons of all backgrounds and ages came to enjoy the celebration, whether they have known Curland for 40 years or a couple of months. The event lasted over three hours.. Local musical artists and bands played, including Xenos, James Maple, Brian Carter, and 17 Relics, a well-known band in Mystic that is reuniting at the Disc 40th Gig for the first time in 12 years. Guest speakers also shared their memories with Mystic Disc, including James Maple, the owner of the Lamplighter, a small cafe right next to the store, Rich Martin, the owner of the Telegraph (another record store based in New London), Steven Slosberg, and more.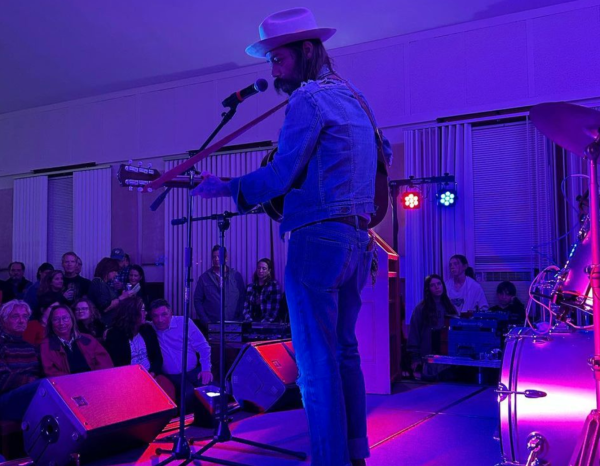 After some acoustic tunes, Maple shared how growing up with the Mystic Disc inspired him to be who he is today. "If you haven't been yelled at by Dan have you really lived yet?" Maple said. He explains how Curland would yell at him for not drinking or eating, or not being a good person, and how Curland would do the same with the other Disc kids both 40 years ago and now.  
After more music from featured artists, Curland shared his story, explaining how growing up in a non-diverse household made him want to create a more diverse space while also sharing a passion for music. He shares how he created his business and how people have built it up to be the most iconic business in this small town. "I planted the seed and you people have kept it watered." He further reflected about how he wants to keep his business as a safe space for anyone and everyone. 
"The Disc will continue doing what we have always done, create an atmosphere for people to hang out and discuss music and anything else that is happening in the world today," Curland wrote in a later Instagram post. 
Gratitude was beaming from the small event space as people clapped and cheered to more music as the night closed out.