Fitch Wins 12-7 Over New London After Stellar 4th Quarter Performance!
Fitch turns it up late in the game for a 4th quarter comeback after slow start.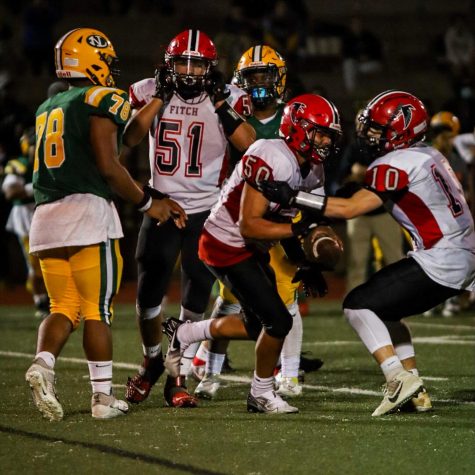 The Falcons are now 2-0 after a hard fought win vs the New London Whalers. Both teams started very slow as it was a defensive sided game in the first half with neither scoring a point. Both sides struggled to find their groove offensively which would later change in the second half as the Whalers came out of halftime hungry for a score as in the 3rd quarter Josiah Williams ran for a 1 yard touchdown previously set up by an end zone pass interference. 
At this point Fitch needed to respond and that's what they did with big runs from Seniors Thomas Williams and Greg Santora who combined for 118 rushing yards on the night. After getting in the red zone, Sophomore QB Ben Perry showed his toughness as he rushed for a 23 yard touchdown, breaking a sack and dodging multiple defenders. A failed 2 point conversion kept the Whalers up 7-6 midway through the 4th quarter. Fitch's tenacious defense truly stepped up as they shut New London out 3 times nearing the end of the game. Including 26 total tackles, with the majority of those coming from Seniors Elijah Shelton, Greg Santora, and Sophomore Devon Edwards. With less than 2 minutes left in the game Fitch needed to take the lead. After a 12 yard gain from a Thomas Williams pitch, Ben Perry threw a dump off pass to Melakai Maddox who took it to the house for a 20 yard TD after breaking a multitude of tackles to put the Falcons up 12-7. 
As the game was on the line New London faced 4th down, Devon Edwards went on to create pressure and get a huge tackle for loss that gave Fitch the win. With only 107 yards in total allowed the Falcon's defense showed why they are a real threat in the ECC as Fitch remains undefeated.