GROTON, Conn., Fitch High School has a competition taking place in the library. This competition involves reading nutmeg books and competing between grades for the winning prize money that will be donated to the winning grade.
Q&A With Ms. Johnson (One of Fitch's Librarians) 
Q – What are the Nutmeg books? 
A – The Nutmeg books are a set of ten books that high school students, librarians, and teachers from all over Connecticut have read and chosen from around 1,000 books because they think HS students will love them. They are different genres, so there's usually something for everyone, even a graphic novel. In April, high school students all over Connecticut vote for their favorite. Last year, The Inheritance Games won. That continues to be a favorite mystery here at Fitch.
Q – How does the competition work this year?
A – The Fitch Library is challenging all of the students to read as many Nutmeg books as they can this year. Once a student finishes a book, the student goes to the Destiny homepage and selects the Google Form for their grade level. You may fill out the form every time you read a Nutmeg book for 2024. Once students start completing the form, there will be slides above the security desk showing each grade level's progress.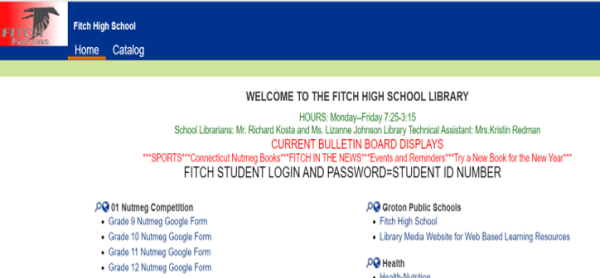 Q – What's the prize specifically for this competition?
A – I am excited to say that the winning grade will receive a $100 donation to their grade's account. I am considering treating anyone who reads all 10 2024 Nutmeg nominees to pizza for lunch. 
Q – What are the Nutmeg books this year?
A –  Here's the link to the 2024 HS Nutmeg nominees. I've read them all and have a couple that I really loved, but I can't vote. Only students vote. We have two copies of each at the library. Students have already been checking them out. We can get more from Groton Public Library too.
Q – When does the competition start?
A – It starts now! I will be trying to visit English classes during the next few weeks to talk about the contest. The contest ends on April 19. Then there will be a google form to vote for your favorite. Last year, ten times as many students voted for their favorite than in 2022. I hope we can make that number grow even more this year!
Q – Who can we talk to if we have more questions?
A – Me! I am at Fitch Library every Thursday and Friday and alternate Mondays. Come join me with your lunch on Thursdays for Readers Cafe at the back of the library. I'd love to answer any questions. My email is [email protected] Students already read for English class, choose a Nutmeg book and give your class a chance to win $100!