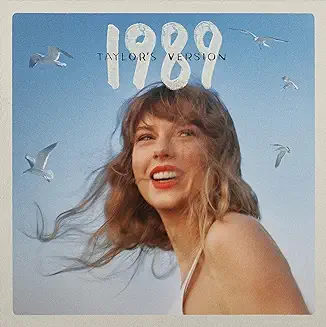 Every time Taylor Swift rerecords, she adds a set of "Vault Tracks," meaning songs that she wrote for previous albums initially but ended up scratching. With the release of '1989 (Taylor's Version)', we received five new vault tracks. Here is my honest opinion. 
First, a little background information: when Swift first got her start in 2005 she signed with the label Big Machine Records. There, she recorded her first six studio albums. 'Taylor Swift' (2006), 'Fearless'(2008), 'Speak Now' (2010), 'Red' (2012), '1989' (2014), & 'Reputation' (2017). However, when her contract expired in 2018 Swift had planned to move to Universal's Republic Records. Bringing her masters to her first six albums with her. Unfortunately, this never happened. While she still made the move, Big Machine Records was sold to Ithaca Holdings, a company owned by Scooter Braun, before she could secure the rights to the first six albums. Braun then sold the masters for a reported $300 million. This means that every time a Taylor Swift song is streamed from her first six albums, it goes to Scooter Braun. Due to this, Swift planned to rerecord all six of her sold albums, this time with her masters in her control.
S**t! (Taylor's Version) [From the Vault]
When first reading the name of this track, I expected an intense pop rock ballad. It is almost the complete opposite. This song has an ethereal and sophisticated feel. It tells the story of being labeled for having relationships in the public eye. The chorus is super catchy and the bridge adds the perfect finishing touch to the song. One of Swift's songs with a similar message but different vibe is 'Blank Space' off of '1989 Taylor's Version'. 'S**t! (Taylor's Version) [From the Vault]' is a great song, coming in at a 9.5/10 rating. 
Say Don't Go (Taylors Version) [From the Vault]
This ominous ballad about agony and heartbreak makes you feel every lyric in your soul. While some parts, the chorus specifically, are upbeat the lyrics are the opposite. A standout lyric being, "The waiting is a sadness, fading into madness". There is an incredible beat drop on the transition from the bridge to the chorus. For another song similar to this, I would recommend 'Foolish One (Taylors Version) [From the Vault] off of 'Speak Now (Taylors Version)'. Overall, I give Say Don't Go (Taylor's Version) [From the Vault] an 8/10
Now That We Don't Talk (Taylor's Version) [From the Vault]
 This is my personal favorite of the vault tracks. The song is perfectly fast paced with a happy beat and melancholy lyrics. For Swift, the song is an overall vocal showcase, demonstrating her range. Throughout the song tension and anger are the prominent themes. Another song of Swift's with a similar premise and beat is 'Question…?' off of her 10th album 'Midnights'. Overall, 'Now That We Don't Talk (Taylors Version) [From the Vault] earns a 10/10. 
Suburban Legends (Taylor's Version) [From the Vault]
I  really do not like this song. Going into the track, I had high hopes for what it may hold. Unfortunately, I was disappointed. Throughout the song, Swift sounds like she is talk-singing. It feels like a throw-away song with too many words packed into each verse. The fast paced beat mixed with the plethora of words makes the story line of this song very hard to follow. ' Mastermind' off of Swift's album 'Midnights' presents a similar style with a much better storyline and overall musical composition. My rating of Suburban Legends (Taylor's Version) [From the Vault] is a 5/10
Is It Over Now? (Taylors Version) [From the Vault]
This song is perfectly curated with angry and genius lyrics set to a happy and upbeat melody. As the song starts the introduction and continuous beat are unique from what you normally hear, but fit the vibe of the song. That vibe being deep feelings of suppressed angst. The perfect tempo was picked for this song, portraying running and racing from something. A beat added in the second verse is beautiful and was 100% necessary. The recurring bridge, the best part, is masterfully curated to stick into your head and paint a picture. At the end of the song, the listener is left wanting more. A song with a similar feel is 'Out of The Woods' off of '1989 (Taylor's Version)'. This is hands down the best of the vault tracks, receiving an 11/10.